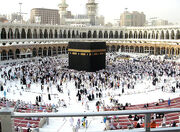 New Makkah
(also called
New Mecca
) is the second largest of the
Human Cities
in Fedeledland. It's also the only city to be mostly inhabited by Muslims in Fedeledland. It's the capital of the
Makkah Prefecture
.
For the Rastynians who cannot afford to travel to the Kaaba on Earth, they instead go on Hajj to the Kaaba in New Makkah.
Demographics
Edit
New Makkah is the fourth largest city in Fedeledland, with 550,000 inhabitants, 95% of which are Muslim, and 45% of which are Turkic, mostly Uzbek. The reminding of the Muslim population is mostly Persian, Arabic and Hui.
Ad blocker interference detected!
Wikia is a free-to-use site that makes money from advertising. We have a modified experience for viewers using ad blockers

Wikia is not accessible if you've made further modifications. Remove the custom ad blocker rule(s) and the page will load as expected.